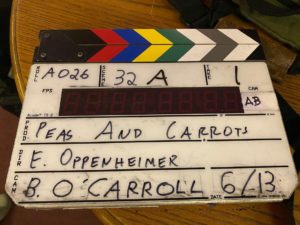 Peas and Carrots – directed by Evan Oppenheimer and produced by Jay Zellman, starring Kirrilee Berger, Jordan Bridges and Amy Carlson had a wonderful first day of production on set! Follow us on this journey and check out some behind the scenes of Peas and Carrots
Hey everyone. I am excited to announce that I'm Producing a Feature Film for Filmmaker, Evan Oppenheimer.
Evan has written and directed seven feature films including: A Little Game, The Magnificent Meyersons, Alchemy, and Lost in Florence. I am thrilled to be producing his 8th, Peas and Carrots.
Peas and Carrots is a family film starring Kirrilee Berger, Amy Carlson, and Jordan Bridges. Producing this film has been a thrilling experience and I am very grateful for this awesome opportunity.
Look out for Peas and Carrots in theaters 2023!