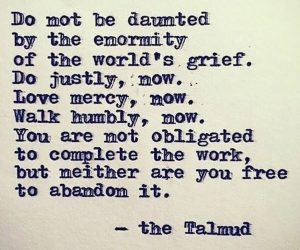 Today was the deadliest attack on Jewish People in the USA in American history.
From the Talmud: a sacred Jewish text.
Despair is not an option. We must continue to walk toward unity, love of our neighbors and love of peace. Do not turn from love of neighbors and the good in others and ourselves. Vote for the candidates who preach peace and good will and unity not division. Reach out to your Jewish friends and neighbors today. Tell them you care and stand with them. ?
Via @womensmarch:
"We are mourning with the victims, survivors, and families of all impacted by today's horrifying shooting at the Tree of Life Synagogue in Pittsburgh. Make no mistake: this is an act of terror intentionally targeting our Jewish family.
After a week of violence — from attempted assassinations of the leadership of the Democratic party, Trump critics, and news organizations to the racist murder of two Black people in a Kentucky grocery store– it is more clear than ever that hatred and bigotry in this country is escalating. It is more clear than ever that all marginalized communities and allies must come together to fiercely defend and love each other.
To our Jewish sisters, brothers, and siblings, we are with you, we love you, and we support you. We see your fear, your pain, and we promise that our work to combat white supremacy in the United States will include combating antisemitism. It has to. We are heartbroken, but we are more resolved than ever to fight back against the rising tide of hate in America."
Thank you @glennondoyle for the image and message.
What sense does it make to allow him to have "with an AR-15-style assault rifle and three handguns, authorities said. " ?
He was a known threat. An American terrorist.