©Dann Gire; www.dailyherald.com
Glen Ellyn's Amy Carlson played a mom whose son grows up to be the title character in the new superhero film "Green Lantern." At the last minute, though, she learned her scenes had been cut.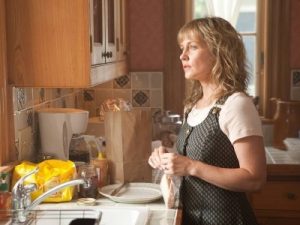 Amy Carlson received the bad news from her "Green Lantern" co-star, Mike Doyle.
Doyle had just come from the Hollywood premiere of the superhero epic. He immediately telephoned Carlson, who played his mother in the movie.
"Uh, has anyone called you?" he asked.
"No," Carlson said. "Nobody's called me."
"They cut all of our stuff!" Doyle said. "In fact, they cut all of your stuff."
Carlson, a Glen Ellyn native and graduate of Glenbard West High School, had worked two weeks on "Green Lantern" as the mother of Ryan Reynolds' test pilot hero, Hal Jordan, and his brother Jack (Doyle).
She shot scenes as a young mother when Hal is a child, then as an older woman when Reynolds plays Hal as an adult.
None of this footage made it into the final print that went out to theaters on Friday.
"I had a feeling that might happen," Carlson said. "I had a sense they were going to make this an all-superhero thing. The only thing they could cut would be the family. And that's what they did!"
Yes, Carlson still got paid.
And yes, it's common to wind up on the proverbial cutting room floor. Kevin Costner's character was edited out of "The Big Chill." More recently, Andy Garcia was eliminated from "Dangerous Minds," and Max von Sydow was removed from the theatrical version of "The Wolfman."
It happens for many reasons — to shorten the running time, or to tighten the plot, or to eliminate redundant information.
"It's the very first time I've been cut," Carlson said. "Actually, it's kind of exciting."
Still, she admitted it felt a little odd to be cast as Reynolds' mother in the first place.
"We're not that far apart in age," the actress said. (He's 34; she's 42.)
Carlson's TV credits go back almost 20 years. Her big acting break came during the 1990s when she made a splash on the soap opera "Another World" for three years.
The actress let loose her inner hottie to play Josie Watts, a young woman who returns home after being involved in a Heidi Fleiss-esque scandal. She eventually became a police officer. In a soap opera, nothing sells like redemption.
Carlson confessed that at the time, she thought acting in soaps required an unbelievable amount of work.
That changed after she landed a role on the former TV series "Third Watch."
"I was in full fire gear in 100 degrees up on a roof for 18 hours," she said. "I was like, wow, soaps are easier. I had a better perspective on it."
Carlson traces her love of acting back to her high school days at Glenbard West High School in Glen Ellyn, which also launched performance artist Laurie Anderson and "Will & Grace" star Sean Hayes.
"Ever see a John Hughes film?" Carlson asked. "That was my high school. I feel that he captured what it was really like to grow up in the Chicago suburbs, at least during the 1980s."
Carlson said she embodied a lot of the teen types portrayed in Hughes' films: the jock, the nerd, even the rebel.
"I had glasses, and I was a nerd," she said. "But I went to all the dances. I was also in athletics."
Which brings Carlson to her rebel side. After six years of commitment to running and cross-country events as a teen, she opted out of sports in favor of the performing arts.
"I came down with bursitis, and I told the coach that I really just want to do plays now. I should have kept running, but I just wanted to do plays," she said.
Why? Of all her options, why would Carlson pick the fickle and difficult field of acting?
"I felt I had a calling, and I had a gift to do that," she said. "Something kept pulling me back to performing."
As for Glen Ellyn?
"Glen Ellyn was kind of the idyllic setting to grow up. I loved it," Carlson said. "We would ride our bikes and trikes over to Sunset Pool, our community swimming pool.
"It was kind of a perfect place to be a child. It was very safe, a beautiful community. Lots of trees. And Sean Hayes lived nearby. Our houses were a backyard away from each other."
Carlson ventured from this idyllic setting into a very different one when she was 13. She went with her parents — both schoolteachers — to live in Jordan for a year.
"There was so much chaos around where we were living in the Middle East," she said. "We loved where we were in Jordan. There were times we were told to leave. There was a civil war on. We got through the border, then they closed the border.
"The U.S. just felt like a pristine Superdome. In a way, the U.S. felt untouched and unscathed. It was before 9/11, of course, so it really seemed that way."
She plans to continue auditioning for new roles, although her "Green Lantern" director, Martin "Casino Royale" Campbell, hired her without an audition, a rare thing in Hollywood.
"Sometimes, I wondered if I should just go back to school and go into medicine, you know?" she said. "Acting is hard. Really hard. I really love it."
As for being cut from "Green Lantern," Carlson remained pragmatic.
After all, she still might make the deleted scenes chapter in the inevitable DVD release.