It has been said I make "the world's best" #bananabread
Today I'm going to share that recipe with you.
So easy!
Banana Bread
#baking #bestbananabread #recipeoftheday #easybaking #bakingfromscratch #quarantinelife #quarantinebaking #quarantinebakingchallenge #covid_19 #covidactivities #socialdistancing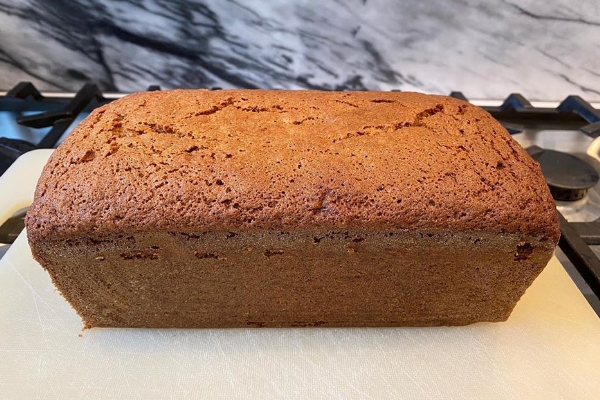 Make sure you have black or overripe bananas. I put my black bananas in the freezer until I'm ready to bake.
Once you have 6 you are ready!
3 1/4 cups flour ( use 2 whole wheat cups and 1 and 1/4 cups regular unbleached flour)
2 teaspoons baking soda
1/2 teaspoon cinnamon
1/2 teaspoon salt
4 large eggs left at room temperature for 30 minutes
2 cups sugar
1 cup vegetable oil
3 cups mashed up ripe bananas (or those 6 large from the freezer)
1/2 cup sour cream (or cream fraiche if you're fancy, I am usually not:)
2 teaspoons vanilla
Can add chocolate chips or toasted walnuts, 1 and 1/3 cups (if you're in the mood)
If you have a standing electric mixer get that out if not get ready for a light arm workout.
Preheat oven to 350 degrees.
Butter 2 (9 by 5 by 3 inch) metal loaf pans. Your typical bread loaf pan basically.
Then after buttering, dust with flour and knock out the excess.
Sift together 3 and 1/4 cups flour, baking soda, cinnamon, and salt into a bowl. Set aside.
Beat together eggs and sugar in a bowl, or use electric mixer at medium-high speed until very thick and pale and the mixture forms a ribbon when the beater or spoon is lifted. (About 10 minutes with electric mixer about 10-15 by hand, depending one energy you put into those strokes!) Reduce speed to low and add oil in a slow stream, mixing, then mix in bananas, sour cream (or cream fraiche) and vanilla.
Fold in flour mixture (and chocolate chips, if you're in the mood) gently but until all is mixed.
Divide batter between loaf pans, spreading evenly, and bake in middle of oven until golden brown and a wooden toothpick or skewer comes out clean 1 to 1 1/4 hours.
Cool loaves in pans for 10 minutes. Then turn loaves out of pans and let cool completely.
Note: Banana Bread keeps wrapped well in plastic wrap at room temp for 2 days and/or can be frozen for a month or two:)