Glen Ellyn Celebrates Warhol
June 3-September 10
Cleve Carney Museum of Art
This summer, Glen Ellyn is celebrating everything Andy Warhol!
Find out more about the Special Events, PopArt Challenge, Warhol Exhibition, Walking Tour and much more by visiting the website on the left.
Glen Ellyn Public Library Embraces Warhol
Glen Ellyn Public Library accepted the 'The DuPage Warhol Public Pop Art Challenge' and is showcasing Cleveland Holmes, Gary Sinise, Billy Williams, and Amy Carlson in its windows!
The Cleve Carney Museum of Art and the McAninch Arts Center at the College of DuPage invited communities to participate in 'The DuPage Warhol Public Pop Art Challenge' to showcase members of, highlight, and attract visitors to their community.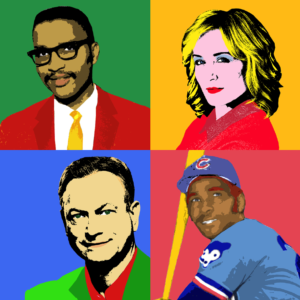 During the Ice Cream Social, we will honor the Glen Ellyn notables whose faces appear in the windows on the east and west sides of the library: Cleveland Holmes, retired Glenbard West math teacher; Amy Carlson, actor; Gary Sinise, actor; Billy Williams, Chicago Cubs Hall of Fame baseball player. Two honorees will also be in attendance at the Ice Cream Social – Cleveland Holmes and Billy Williams! Mr. Williams is also the Glen Ellyn 2023 Fourth of July Parade Grand Marshal!
Ice Cream Social – Monday, June 12 | 7-8:30 pm – Glen Ellyn Public Library Parking Lot
Photo Spots & Walking Tour
Downtown Glen Ellyn will come alive this summer with Warhol-inspired Photo Spots throughout the Downtown. Immerse yourself in Studio 54 with our Disco Plaza and Warhol Walkway. Enjoy Warhol-inspired painted flower pots throughout the Central Business District. See some of Glen Ellyn's most famous citizens and enjoy Warhol-inspired murals along our streets.